Surgical services continues to be a key growth focus for health systems--fueling about half of a hospital's total revenue today and forecasts for continued growth ahead.
In fact, academic medical centers and tertiary providers are forecasted to benefit from an estimated 11 percent increase in tertiary care discharges over the next 10 years.
Organizations are pushing to capture this high-margin growth opportunity by creating operating room ("OR") capacity and improving operations to effectively accommodate higher acuity, specialty cases, and ultimately to advance their regional and national destination brand. The environment has never been so complex with limited capital dollars forcing the maximization of existing investments, intense competitive pressures for staff and surgeons, and rising expectations from patients.
These organizations must optimize their surgical services platforms to drive profitable margins in this high-resource, high-cost care setting--meaning attracting more complex cases without adding ORs and staff or extending hours.
But almost every executive we have talked to has assigned internal resources to the OR and experienced numerous, recycled improvement efforts with only incremental gains. ORs continue to be plagued by imbalanced case load across the week, a completely blocked schedule, low utilization of OR block time, frustrated staff, inefficient workflow, and long-standing operational practices by each silo – surgeons, anesthesia, staff, and support services.
These projects are highly political where the stakes are high and part-time approaches typically do not work.
Achieving and accelerating meaningful outcomes, such as freeing up capacity for incremental cases or improving utilization, requires that organizations solve for the OR as a system as compared to the individual parts by executing three highly integrated components in parallel:
Block Schedule and Scheduling Policies (e.g. allocations based on utilization, booking elective add-ons)
Process and Flow (e.g. first case starts, room turnovers, pre-surgery testing)
Governance and Culture (e.g. OR steering committee, data transparency, accountability)
All three are critical, but here is a closer look into the block schedule and scheduling policies--a component regarded as the most strategic and one of the largest opportunities for improvement.
What Process and Schedule Changes Will Help Move the Needle?
Block schedules and scheduling policies are the most critical lever to optimal OR access, efficiency, and productivity. While process and workflow improvements contribute to overall efficiency, the schedule represents the most challenging but most impactful driver. For example, while shaving 5 minutes off of a room turnover is a surgeon satisfier, you cannot fill that time with an additional elective case or send staff home significantly earlier if the OR consistently runs 2 hours late. It is critically important to understand the return on effort for any changes proposed.
Block schedules are a common approach to managing OR time and resources, however oftentimes they are not implemented as intended. In fact, many block schedules become 100 percent blocked over time and create an access issue, despite the fact that average overall OR utilization is between 50-60 percent. If not 100 percent blocked, existing capacity is scattered across less desirable, potentially smaller chunks of time, making it difficult to recruit surgeons or offer first case starts to current surgeons successfully growing their practice. These surgeons can operate late into the evening or their schedulers call around to other offices to identify unused time – an unsustainable process for retention and growth. Market competition demands that your system provides predictable, meaningful access.
Data Changes Minds
To unlock latent capacity, you could consider thousands of potential scheduling scenarios with a range of performance results, making it difficult to effectively solve for the best solution manually. The number of scenarios is driven by factors such as patient volume, procedure mix, procedure time, room turn, and staffing. These inputs are straightforward but there are many other strategic decisions that need to be included in optimal block schedule design.
Organizations need to understand the overall impact of key scheduling policies, such as:
Full day vs. half day blocks – What is the impact of the surgeon running early or late, such as a long case delay or idle gap in the middle of the day?
Elective vs. emergent/urgent – Particularly for trauma centers, how do you effectively accommodate unpredictable emergent/urgent volume while protecting capacity for scheduled cases?
Blocked vs. open time – What is the right balance of blocked-to-open time based on factors such as growth plans and case mix?
Some scheduling decisions can be more political but have significant impact on overall results, such as:
Time allocations – Are surgeon or service level blocks most effective? Will the organization allocate time based on actual utilization?
Flip rooms – What is the volume threshold and case types when flipping makes sense? How much productivity does the surgeon and OR mutually gain?
Release times – What are the automatic and voluntary release times and when will a surgeon appropriately receive credit?
Clinic – How will you align surgeon clinic schedules with the optimized block schedule?
Anesthesia – How will you align anesthesia resources with the OR schedule to address competition due to increasing demand from other procedural areas such as endoscopy?
Other scheduling decisions will have enterprise implications and should be aligned with enterprise goals:
Level loading the elective schedule – What is the day-to-day and week-to-week variation of the block schedule? How does this impact optimal use of the ORs and staff across the week? How does this impact downstream inpatient capacity, process and resources?
Acute care vs. ambulatory – What are the "right" cases to shift to ambulatory care settings based on lower acuity clinical needs, consumerism expectations and changing payment models? What is the downstream inpatient impact of backfilling this newly created capacity with higher acuity cases, including the PACU or critical care units?
All of these factors are in the data and can be modeled with advanced tools to make an informed decision about the option that best aligns with your organizational goals. This data is the backbone to a change management process, enabling surgeons and administrators to move from anecdotes, perceptions and tribal knowledge, to data-driven, objective assessment. In our experience, only advanced modeling tools and effective governance provide the horsepower to critically understand the net impact of the individual surgeons and parts, on the OR as a system.
What Should I Expect?
We find consistently that a 10-20 percent increase in Prime Time minutes is achievable through taking a sophisticated approach that uses data and engages surgeons in the options available to improve performance. An effectively implemented block schedule drives high performance, accountability, and positive financials for the organization and physicians.
Here is an example of how a 16 OR tertiary facility improved their performance: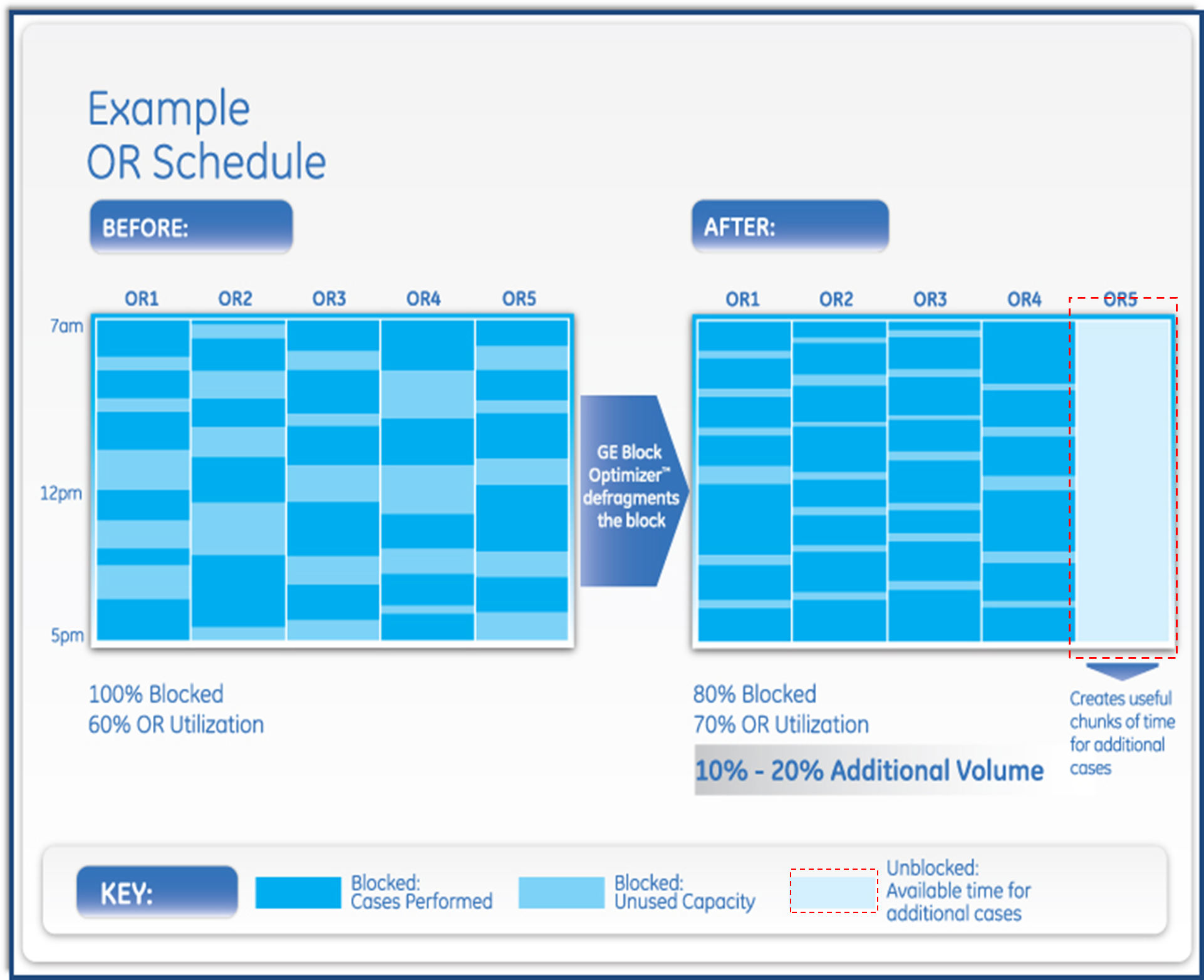 In later articles, we will cover the need to address process and flow to create credibility with surgeons that warrant changes to the schedule and the role highly effective governance can play in engaging, aligning, and driving accountability with surgeons and staff.