Transform the future workforce
Many provider organizations still depend on decades-old models rooted in utilizing general staffing ratios, external benchmarks, historical performance, and "one size fits all" improvement expectations
Year after year, only incremental changes are made without sustainable improvements, so the same problems go unresolved.
GE Healthcare Consulting believes that the roadmap to transformation for any provider organization begins with the current state of their human capital operations and evolves through realignment, enhancement, and preparation for the future.
This evolutionary approach delivers benefits with each phase, while helping organizations build on each level of progress cost-effectively.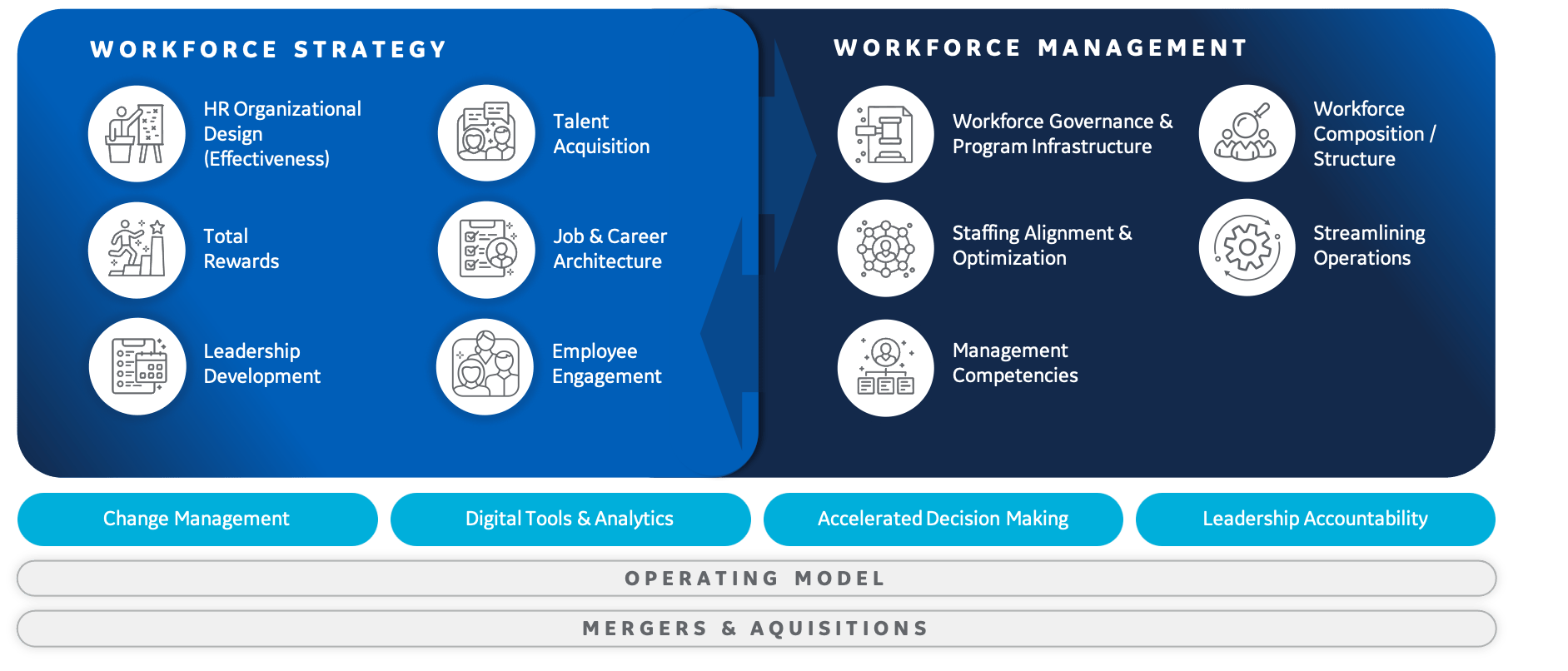 The GE Healthcare Consulting approach to the Human Capital Value Chain (HCVC) integrates the strategic and operational functions of human capital into one value chain focused on:
Workforce strategy
HR organizational design
Talent acquisition
Total rewards
Job & career architecture
Leadership development
Workforce management
Workforce governance and program infrastructure
Workforce compensation / structure
Staffing alignment & optimization
Streamlining operations
Management competencies
Related Insights
workforce-management
Chime 2020 - Navigating the New Normal in Healthcare
Navigating The "New Normal" in Healthcare: Capacity Management and Operational Efficiency Today and Addressing the ...
Improving the Human Capital Prognosis in Healthcare
The strain today on provider organizations is massive and increasing. Arguably, no operational lever will transform ...
Implement Workforce Management Tools to Reduce Cost Intensity
Top 10 Trends to Watch (and Act Upon) in 2020
Beyond election-year dialogue, which will continue to place healthcare front and center, what should healthcare system ...
GE Healthcare Partners Shortlisted as Finalist for the HSJ Partnership Awards 2020
Leverage a Pay Practices Optimization Solution to Generate High ROI for Sustained Benefits
Is Your Board Prepared for These 10 Trends?
Boards need to focus on healthcare delivery transformation — and keep their eyes peeled for changes in federal law
10 Myths of Population Health and Clinical Transformation
It is a confusing time in United States healthcare. Healthcare organizations are faced with the new reality of ...
The GE Healthcare Difference
At GE Healthcare Consulting, we utilize tools and processes to assist healthcare organizations with their toughest challenges.
Across our range of services, we embrace our change management approach to address the people side of change. Our collaborative, shoulder to shoulder delivery model enable our clients to design and activate performance improvement projects that will elevate their organizational transparency and communication.
At GE Healthcare Consulting, our approach is to understand the organization's legacy and culture to equip them with the capabilities needed to drive long-term transformational change and achieve sustainable outcomes.
Leadership
Geoffery Martin, MBA
Global CEO
Chicago, Illinois
Eric Kammer
Managing Principal
Chicago, Illinois