Performance Improvement
Elevate margin improvement to an agile, data-driven capability that captures and sustains maximum value with financial and operational discipline.
Transform The Future Workforce
Many provider organizations still depend on decades-old models rooted in utilizing general staffing ratios, external benchmarks, historical performance, and "one size fits all" improvement expectations. Year after year, only incremental changes are made without sustainable improvements, so the same problems go unresolved.

GE Healthcare Consulting believes that the roadmap to transformation for any provider organization begins with the current state of their human capital operations and evolves through realignment, enhancement, and preparation for the future. This evolutionary approach delivers benefits with each phase, while helping organizations build on each level of progress cost-effectively.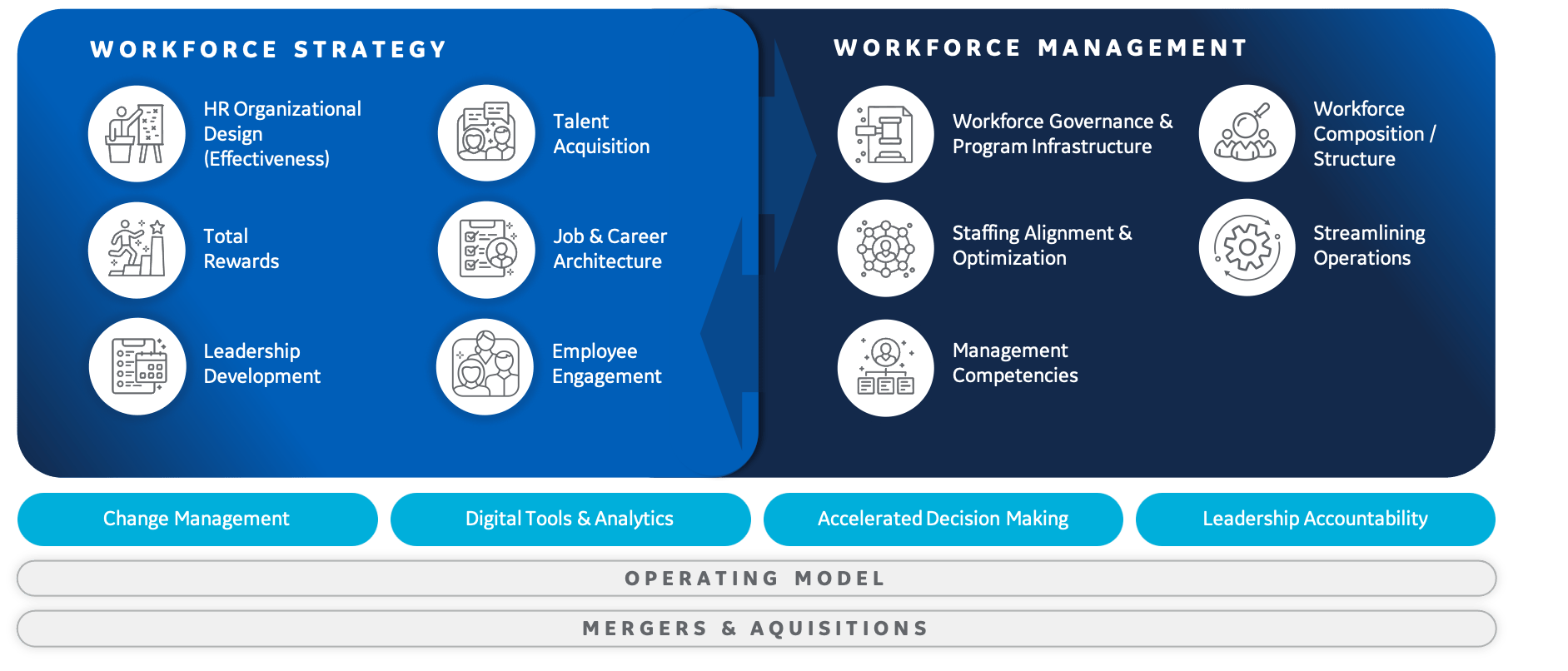 The GE Healthcare Consulting approach to the Human Capital Value Chain (HCVC) integrates the strategic and operational functions of human capital into one value chain focused on:
Workforce strategy
HR organizational design
Talent acquisition
Total rewards
Job & career architecture
Leadership development
Workforce management
Workforce governance and program infrastructure
Workforce compensation / structure
Staffing alignment & optimization
Streamlining operations
Management competencies
Elevate Surgical Services
Surgical services make up a large share of a health system's revenue and continue to be critical to strategic service line growth and market differentiation.

Significant market evolution has created an urgent imperative to optimize a new surgical services ecosystem – highlighted by the accelerated shift to ambulatory surgery centers and new opportunities to drive smart growth of complex, specialty procedures in Main ORs.

Leaders are required to drive change beyond foundational process improvements such as first case starts and turnaround times, to refreshing block scheduling policies and renewing surgeon engagement for effective governance.

GE Healthcare Consulting was built on a proven approach to surgical services transformation leveraging advanced analytics and the proprietary "GE Block Optimizer" tool.
Enhance capacity and throughput
Optimizing capacity and patient flow in the hospital and across the system is critical to improving patient access and satisfaction, and delivering the best value for the patient. At GE Healthcare Consulting, we can help you identify key priorities for the design and implementation of your new care delivery model.

Additionally, as the shift of care delivery continues to accelerate beyond the four walls of an acute care hospital to the full continuum of care, managing the health of a population requires a refreshed approach to coordinating people, processes, and tools in your hospital(s) with those in primary care provider offices, specialty clinics, managed care plans, and post-acute venues to achieve an integrated approach.

GE Healthcare Consulting's care delivery solutions, guided by our proprietary Digital Twin simulation modeling analytics platform, can help you identify, prioritize and implement comprehensive capacity and throughput opportunities while considering the best ways to enhance care team collaboration and expand your services to the communities you serve.

Our care delivery experts can help you evaluate your current care delivery model for key processes including:
Length-of-stay management
Strategic capacity and care delivery planning
Discharge / transition planning
Multi-disciplinary rounds
Optimize Non-Labor and Pharmacy costs
With unsustainable operating expense growth and margin dilution, non-labor and pharmacy expense represents up to 40% of an organization's operating expense and continues to be a critical and often under-optimized value opportunity.
Traditional non-labor and pharmacy cost management strategies depend heavily on pricing as well as a health system's GPO and other vendor partners to deliver savings through optimized contracting practices. These strategies are a good start but only achieve incremental impact.
The Opportunity: 5-7% Cost Savings Beyond Pricing
GE Healthcare Consulting helps organizations adopt new and comprehensive value-based procurement programs to unlock near-term, recurring non-labor and pharmacy cost savings that can represent substantial cumulative impact over time.

GE Healthcare Consulting's non-labor and pharmacy team works closely with supply chain and operational leadership to enable and accelerate cost savings through areas such as:
Product & service standardization to maximize contracts
Optimized, aggressive unit pricing and contract development
Improved distribution models
Evidence-based utilization protocols for supply and drug formularies
Evaluation of high value insourcing and outsourcing opportunities
340B program optimization and expansion
The GE Healthcare Difference
At GE Healthcare Consulting, we utilize tools and processes to assist healthcare organizations with their toughest challenges.
Across our range of services, we embrace our change management approach to address the people side of change. Our collaborative, shoulder to shoulder delivery model enable our clients to design and activate performance improvement projects that will elevate their organizational transparency and communication.
At GE Healthcare Consulting, our approach is to understand the organization's legacy and culture to equip them with the capabilities needed to drive long-term transformational change and achieve sustainable outcomes.
Related Insights
performance-improvement,workforce-management,capacity-optimization,non-labor-and-pharmacy-costs,perioperative-services,revenue-cycle-management,clinical-variation
Infographic: Boosting Your Surgical Program
The 8 critical determinants of successful surgical programs during COVID-19.
No Time For Margin(Al) Tweaks
U.S. health systems and hospitals are experiencing significant pressure on operating margins as the COVID-19 pandemic ...
COVID-19 Surgical Reboot: Encourage Innovation Instead Of Returning To "normal"
Boosting Returns: Your Clinical Assets May Not Be Providing the Expected Return and Why It Is More Important Than Ever
Imaging Services: Time To Disrupt The Traditional Model And Unlock New Value
How to Increase Hospital Bed Capacity by 20-30 Percent
The United States has 941,520 licensed hospital beds. Just under 65,000 of them are intensive care beds.[1]That's not ...
The Patient Care Continuum: What You've Been Missing with Clinical Variation
Driving Operational Efficiency and Sustainable Growth Within Surgical Services
Improving the Business Performance of Pharmacy Operations
This brief describes how GE Healthcare Consulting works with health systems to improve the overall business performance ...
Improving the Human Capital Prognosis in Healthcare
The strain today on provider organizations is massive and increasing. Arguably, no operational lever will transform ...
Implement Workforce Management Tools to Reduce Cost Intensity
OR Efficiency Starts With Effective Governance
There are a number of influencing factors that affect and determine operating room efficiency. ORs are becoming ...
Leadership
Geoffery Martin, MBA
Global CEO
Chicago, Illinois
Eric Kammer
Managing Principal
Chicago, Illinois
David Burda, MBA
Managing Director
Austin, Texas