Most hospitals understand the importance of inpatient case management. Yet, when asked how care managers are coordinating care for the inpatient population, most responses are focused on discharge planning tactics or utilization management strategies.
The patient's care is not truly being managed – just their length of stay ("LOS"), inpatient progress, and planning for discharge to avoid a readmission.
As the focus on value-based care is increasing, and more care is shifting into the ambulatory space while the U.S. population continues to age, a higher proportion of vulnerable ambulatory patients find themselves in need of holistic supportive care.
Health systems are realizing the importance of ambulatory care management as a crucial foundation to managing populations across the care continuum by delivering high quality and patient-centric care while keeping in check avoidable costs.
High performing organizations have implemented integrated care management programs focused on managing patients across care settings that include deciphering patients' various medications, coordinating the many care directives from multiple providers, ensuring safe transitions of care from a post-acute care setting to the home, and helping patients with transportation difficulties or other social barriers to seeking care at the right time and at the right place.
The challenge though, is that many organizations are still thinking about delivering care within silos rather than integrating and aligning the initiatives within a patient-centric care delivery model.
Outlined below are 10 reasons you should consider integrating your care management across the care continuum to support your population health initiatives.
1. Integrated care management addresses inefficiencies in managing the high risk populations and addresses LOS challenges and shifts in utilization to support the most effective care resource model.
The shift to value-based care delivery and the strengthened incentives for advancing value-based reimbursement will lead health systems and providers to renew their focus on adopting care models to support management of high-risk, high-cost patients, complex, and chronic care patients, in addition to disease-specific management programs.
This will require new approaches to expanding patient access to lower cost sites of care and providing patients a more effective and simpler approach to navigating their care.
The integrated care management model supports organizations and providers in developing innovative models (see graphic below) focused on reducing inefficiencies, managing medical spend, and improving patient access.
Integration of targeted, evidence-based programs such as post-discharge transitions, complex care management, disease-specific, and episodic care pathways, as well as proactively connecting patients with behavioral health needs to appropriate care management and community services are just some of the strategies that have proven success.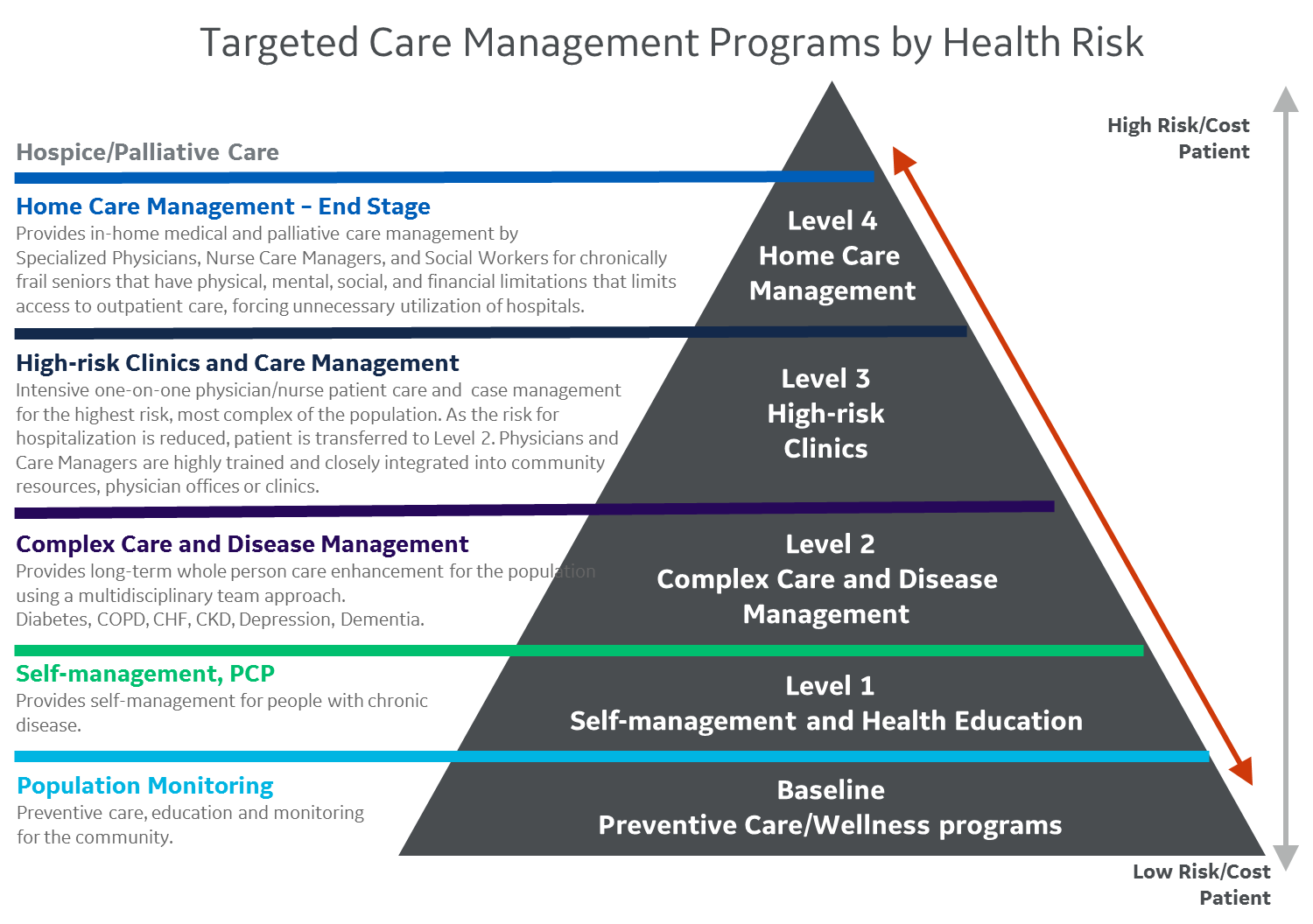 2. Duplication of care management services causes competing priorities and operational inefficiencies and redundant costs.
An integrated care management model provides a seamless patient experience across the continuum of care when there exists one aligned team to care for the patient.
For organizations to achieve an integrated care management model requires not only effective communication channels and standardized care processes, but the analytics and information technology systems to support these care processes. Duplication typically occurs because barriers in technology and lack of standardization of workflow processes limit the ability of care managers to share information as the patient moves across different sites of care.
Due to the limitation in electronically aggregating the necessary clinical information, care managers are not able to coordinate their efforts and spend significant time manually gathering information from providers. As a result, time is spent on manual documentation and patient management that could be automated, and more staff is typically added to ensure such information is captured, verified, and reported.
The development and implementation of a shared care plan (and tools that will house the care plan) that follows the patient and is accessible by the care team, along with electronically aggregating important clinical information, are key requirements to reduce staff duplication, inefficiencies, and redundant costs.
3. One quarter of patients consume three quarters of resources, many of whom are unmanaged and lack community-based resources.
Integrated care management and coordination is a person-centered, collaborative, and multi-disciplinary process that uses population based risk-stratification and evidence-based interventions to promote optimal outcomes in a value-driven environment.
By incorporating tools that allow organizations to understand the health risk level of the populations served, organizations can build more prescribed programs to track and manage high risk (and typically high cost patients), and to help prevent potentially avoidable higher-acuity, higher cost care.
As organizations become more proficient in understanding the risk factors of their populations, integrated care management programs will increasingly rely on partnerships and linkages with community-based services and organizations and community health workers to help coordinate care and meet patient needs — driving the most optimal results.
4. Integrated care management addresses suboptimal transitions across the care the continuum.
The most vulnerable time for the patient is when he/she leaves the acute care setting or transitions from a skilled nursing facility back into the community.
Today more patients are transitioned out of acute and rehabilitation care settings earlier than even just a few years ago. This is because more services and treatments are deemed safe to be administered in an outpatient setting. Yet, many patients are limited in their ability to thrive when one considers social determinants of health such as ability to afford medications, transportation to providers, or simply required competency level to manage their health. These factors, although likely present before the admission, are not properly addressed as part of the traditional coordinated discharge treatment plan.
As a result, providers only come across these social determinants when medical errors occur, important medications are erroneously discontinued, tests are not followed up, or patients end up back in the emergency department after being discharged. Implementing patient-centric integrated care management across the continuum of care that incorporates providers expanding their discharge care plan to include social determinant evaluations helps avoid "fumbled handoffs."
5. Integrated care management helps providers meet increased expectations around quality, cost, productivity, and patient satisfaction, critical to population health management.
The pressures on and expectations of providers (particularly primary care physicians) are immense. Physicians themselves cannot (nor should they) assume that they can address quality of care, cost, and patient satisfaction on their own. An integrated care management approach provides support to primary care practices by managing these increased expectations and helps the entire risk-bearing organization achieve success.
The key is to redesign the care model to incorporate a physician-led and team-driven best practice approach. This should include integrated care plans, coordinated protocols, and outcome tracking.
Providers benefit from pre-visit planning to identify complex, chronic, and high risk patients, making practice operations run more efficiently. This, in turn, leads to a more focused care plan, better managed patient flow within the practice, enhanced patient and provider satisfaction, and more coordinated overall care.
By incorporating a care model that includes a significant preparatory assessment, chart reviews, and checklists to ensure preventative screening is performed and documented, providers are well-positioned to enhance the quality of care delivered and see real results within their quality performance outcomes. Those organizations that embrace an integrated care management approach find themselves better positioned to meet ever increasing demands on their expertise, time, and resources, and are better able to maximize opportunities within a value-driven healthcare world.
6. Overlap and lack of clarity in roles and responsibilities create staff dissatisfaction that can be ameliorated with integrated care management.
Over the last several years, many healthcare systems have invested substantial resources and efforts into deploying and retraining inpatient case managers to address preventable hospital LOS.
As these organizations take on financial risk by participating in value-based contracting, they embed care managers in the primary care physicians' offices to assist with managing complex patients, help with their social and behavioral needs, and improve communication around transitions of care. However, some providers are not as satisfied with this approach as one might expect.
There is significant role confusion and frustration among various healthcare professionals, resulting in multiple calls to patients, for example, from home health, the care manager assigned to them by their payer, a hospital social worker, and an ambulatory care manager. Physicians are then also confused as they receive mixed messages from various care managers, which is exacerbated by lack of clarity around who they should contact in order to address some of the issues.
Is it the responsibility of the hospital discharge planner to communicate important information to the ambulatory care manager, or is the ambulatory care manager responsible for contacting the hospital to get this information? Who is truly empowered and accountable for care managing the patient along the entire continuum? This can all be resolved by a single, clearly identified integrated care manager who has the responsibility to work on the patient's behalf and serve as the single source of truth for the patient and all treating providers.
Clarity around care managers' role designation and empowerment will increase overall provider satisfaction and significantly enhance quality of care delivered to patients.
7. Integrated care management helps improve patient engagement and activation in their care.
Organizations are frequently struggling with getting patients to engage in their health in a proactive way. For many patients, active engagement in creating (and understanding) their care plan is a key to improving their health outcomes and conditions.
Education and engagement with the caregivers as well as the patient is an important element in ensuring proper activation of the care plan.
The integrated care manager's care plan should include education and clear instructions to not only the patient but to care giver to ensure a common thread is formed along the complex continuum of care that bridges factors affecting patient motivation, care compliance, and the ability to activate a safe, cost-efficient, and truly patient-centric model of care.
8. Fragmented and uncoordinated care creates a poor patient experience and confusion.
When patients are battling a healthcare issue, the last thing they or their families/caregivers are thinking about is how to navigate the healthcare system.
Yet, healthcare providers often overlook the basic coordination needs of patients beyond the actual treatment provided. Integrated care management is designed to ensure a positive experience for the patient and improve satisfaction in how care is provided by understanding the patient's journey across the care continuum.
Thoughtful, coordinated, and patient-centric design ensures patients remain the focus in defining processes for warm handoffs between providers and care settings, eliminating the need for the patients to repeat information or fill out duplicate forms. It provides added clarity in roles of contact with the patient, ensuring the patient/caregiver has one person to contact with questions or for support, and influences how patient materials are created and deployed (e.g., use of pictures and graphics in teaching self-care concepts, use of lay terminology rather than clinical jargon, use of teach-back and follow-up demonstrations, etc.) to reduce confusion and provide a trusted resource for patients and caregivers to access.
9. Implementing optimal integrated care management across the continuum requires support from an analytics strategy, which aligns with population health initiatives.
As organizations continue to expand their systems of clinically integrated care, building an analytics strategy that connects data from disparate IT systems will create opportunity to allow providers to act more quickly on the information.
The ability to effectively aggregate data and translate that data into actionable information available at the right time, and at the point of care, should be an ever-striving goal of organizations and the foundation for effective care management.
Successful integrated care management uses real time data that is turned into actionable information allowing care managers to quickly identify high risk patients and apply interventions. Gathering the right data and analyzing it correctly requires a combination of skills involving clinical knowledge, medical informatics, and technology capabilities.
The analytic strategy begins with creating a culture of transparency requiring diligence in making information accessible, accurate, and easily transferrable to providers within their clinical workflow.
10. Health systems are missing opportunities to partner with payers in redesigning care delivery.
The adoption of an integrated approach to care management that is aligned with health system contracting and population health initiatives provides new revenue opportunities, when implemented successfully.
By demonstrating the organization's ability to deliver high quality, affordable care to various populations, health systems can leverage their value-based performance outcomes to engage in innovative contractual arrangements with employers and payers that align incentives across the system.
Since investing in new care models and integrated care management program can be costly, it is most effective when both the providers and payers share in the investment costs and are appropriately aligned on the potential outcomes and medical cost savings. Some of this share investment occurs through innovative provider-payer partnership arrangements where the payer pays providers care coordination fees or reimbursement that is directly tied to care management services across the continuum.
This will require a shared philosophy of managing care between the payer and provider as well as integrated approaches around data sharing, alignment in clinical protocols, and resource collaboration. In addition, the coordination of the care management network staff and providers aimed at promoting, maintaining, and/or restoring health will ensure a patient-centric model of care that truly spans the care continuum.
By creating a focused approach around integrated care management operations and breaking down communication barriers, organizations and providers can fundamentally transform how to deliver patient-centric care management in an integrated fashion to achieve the most optimal results possible.
Well designed and properly executed integrated care management is of foundational importance for any organization aiming to achieve success within their value-based contracts.
Successful implementation of an integrated care management model will empower patients and their care givers to navigate through our complex healthcare systems that lead to better quality outcomes, reduced avoidable medical costs, and improved patient and provider experience.