CMS recently launched the first step of the application process for its Next Generation ACO ("NGACO") Model, and next month opens the window to apply for the Medicare Shared Saving Program ("MSSP") Initiative. The NGACO, CMS' newest two-sided risk model, accepted 21 organizations for 2016. The MSSP, which also added enhanced risk-based options in 2016, had 100 new ACO participants this year, bringing the total to 434 ACOs at the start of the year. These numbers reinforce CMS' stated goal to move 30 percent of traditional Medicare fee-for-service payments into alternative value-based payment models by 2016, and 50 percent by 2018.
MSSP: Zero Downside Risk
The MSSP Model was introduced in 2012 as a key component of the Medicare delivery system reform initiatives found in the Affordable Care Act and a new approach in the delivery of health care intended to facilitate coordination among providers to improve the quality of care. Among the primary attractions of the MSSP was the option to participate with zero downside risk, meaning if organizations outspent their target expenditures, they would not be liable to repay the difference to CMS. Through Track 1 there existed only upside, or the ability to share in any savings generated, an appeal that the MSSP Model maintains to this day. This allows organizations to dip their toes in the accountable, value-based waters and develop the infrastructure necessary for future success while still participating in a fee-for-service environment today. And the participating organizations have largely voiced their approval of the program – more than two-thirds renewed their participation when their initial agreement ended in December.
NGACO: Higher Risk/Higher Rewards
While the MSSP Model was the right first step for many organizations beginning their journey towards value-based care, it was in many ways insufficient for more advanced organizations experienced in care management and risk-based contracting. Thus the Next Generation ACO model was born, providing a higher-risk, higher-reward alternative to the MSSP, while simultaneously responding to and improving upon its oft-maligned and challenged predecessor, the Pioneer Model, with a refined attribution process and enhanced benchmarking methodologies. Now organizations can select between two risk options from 80 to 85 percent on the shared savings option all the way to a full-risk opportunity. Now if organizations overspend their benchmark expenditures, they will have to cut CMS a check at the end of the year. This may seem daunting, but many organizations view this as the natural programmatic evolution and that the increased skin in the game can be the push their organization might need to really enact the necessary transformation. In fact, seven of the new NGACO participants came from the MSSP program, demonstrating the interest of existing program participants to advance their risk exposure and opportunity based on their work and success to date.
The NGACO, with its enhanced risk profile, is obviously not for everyone, which explains why only 21 were accepted in the past cycle. As stated above, the NGACO was effectively developed for those organizations with experience in commercial ACOs or with value-based contracts, or that had experienced success in the MSSP and had outgrown the less-lucrative risk arrangement. Accordingly, in addition to the seven MSSP converts to the NGACO program, eight made the transition from the similarly two-sided, but less favorable Pioneer model.
Deadlines Approaching
The good news for organizations wanting to prepare for a value-based future is that the 2017 application windows for both programs are upon us. Organizations contemplating their fit in either initiative can apply for one or both, but need to submit their Notice/Letter of Intent by the respective deadlines to be considered. These submissions are non-binding, so we encourage organizations at all considering participation to file one and then assess their options in the next few months. One caveat is that while organizations can simultaneously apply for both models, they will ultimately only be able to participate in one of the two initiatives.
The NGACO Letter-of-Intent is due May 2, with the MSSP Notice-of-Intent due May 31. Additional key milestones for both models can be found below:
With the continuous innovations of both payment and delivery models, CMS is maintaining its commitment to the transformative shift to value-based care. While that momentum is undeniable, not all organizations are necessarily ready for that transition just yet, particularly in the riskier models. We recommend undergoing a comprehensive (and candid) self and market assessment of your organization's present situation and evolution in what GEHC Camden Group considers the eight core domains essential for clinical transformation to successfully thrive in a value-based world. A commitment must be demonstrated in the below key operational competencies in order to achieve success in the changing landscape.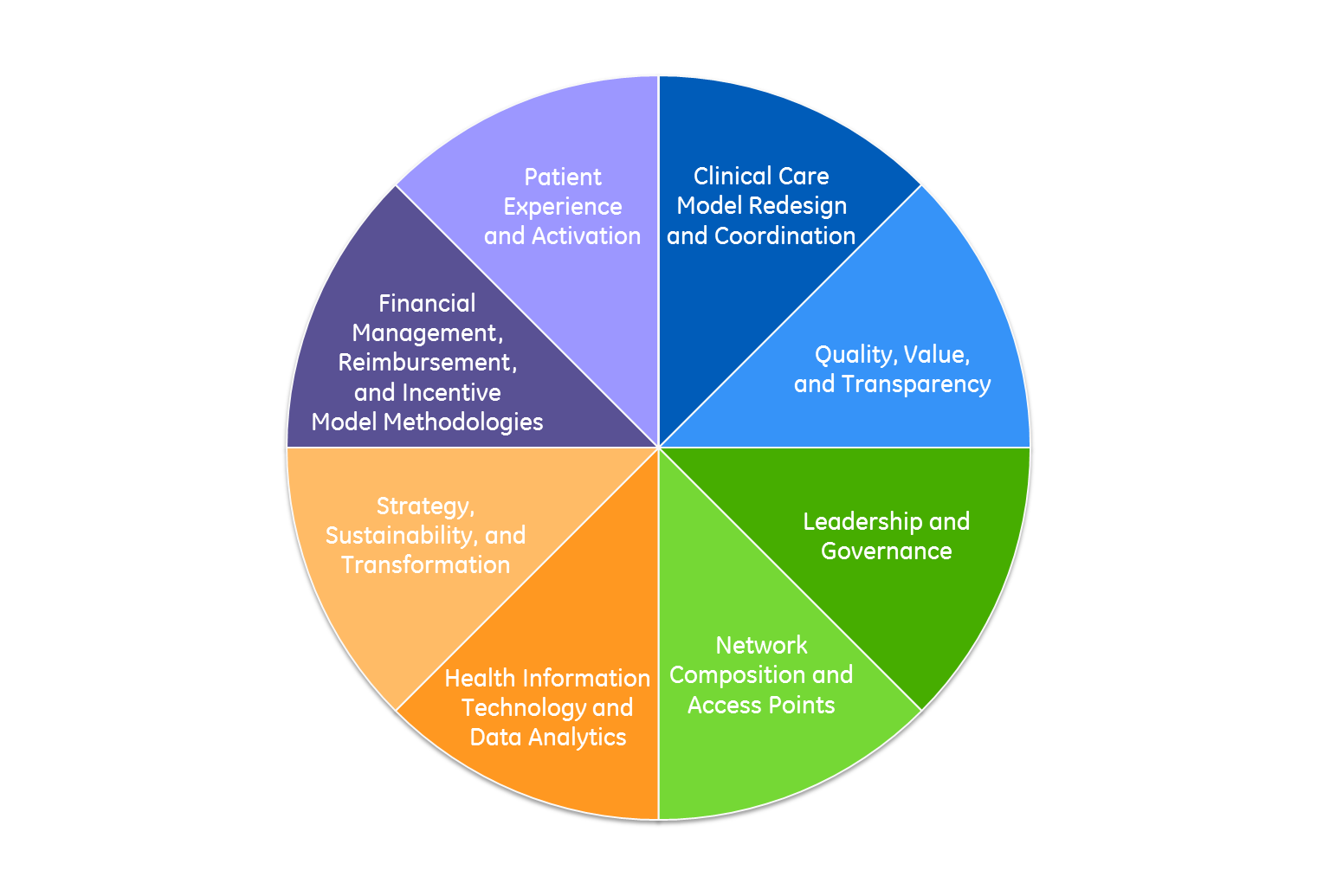 CMS has reiterated its commitment to population health with its ongoing development and support of these accountable initiatives. Even more encouraging, CMS has demonstrated a willingness to adapt and improve to encourage participation and collaboration. The strongest healthcare organizations tend to be the ones that are proactive rather than reactive. For organizations that can see what's coming down the tracks, there may be no better time than now to begin preparing for a value-based future.