The strain today on provider organizations is massive and increasing. Arguably, no operational lever will transform healthcare more in the coming years than human capital.
Getting it right is the only option. Those who need care and those who provide care—demographics on both sides of the healthcare equation—are shifting rapidly in the United States.
Senior Care: A Cost Tsunami. Seniors age 65+ are expected to number 73 million by 2030.(1)
As the Medicare population grows older, sicker and more dependent on healthcare services, accelerations in per-capita spending, hospitalization rates, and shifts from procedural to medical care will exacerbate providers' financial challenges.
Unfortunately, the demand generated from younger populations will fail to offset costs associated with the impending Medicare case mix shift.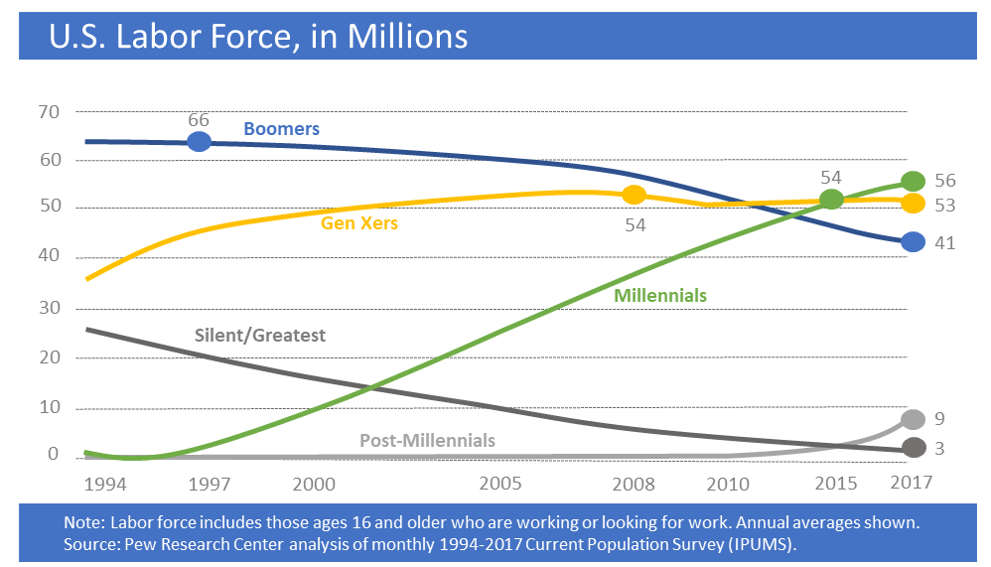 Evolving Talent Needs.
At the same time, the healthcare workforce is shifting. Since labor accounts for between 50-60 percent of a hospital's operating costs on average, it's critical that organizations prepare for a different future, including:
Multi-generational workforces: Many hospitals will have up to five generations of workers, increasing the recruitment and management challenges.(2)
Physician shortages : The provider gap is expected to become more acute with an expected shortage of 84,000 by 2032.(3)
Declining nursing skills: The collective experience level of the nursing workforce is declining as patient complexity and acuity levels rise.(4)
In-demand roles: Advanced practice providers, medical assistants, home health aides, and community health workers—roles that are often underutilized in today's delivery model—will be in demand going forward.(5)
Rise of the Consumer. Online scheduling. Price shopping for procedures. Introductory videos to choose a doctor.
Increasingly, patients are taking the driver's seat in managing their health, allowing provider organizations to shift work to patients (such as scheduling appointments).
Patient preference has become a critical factor in achieving sustainability. Whether rooted in cost, quality, ease of access, or loyalty, consumer preferences vary across age, gender, and ethnicity, and health systems need to understand these preferences to map future services and roles.
High-Tech, High-Touch, Farther Reach.
From artificial intelligence (AI) and robotics to sophisticated algorithms and sensors, healthcare organizations are harnessing the power of digital tools to take over repetitive processes and free up time for humans to focus on patient care.
Virtual health platforms enable one caregiver to manage multiple patients, often across several locations, organizations are achieving greater productivity and scale from their fixed assets and limited specialty resources.6 These shifts will alter the skill mix and staffing levels required in hospitals, affecting human capital strategies.
Human Capital Needs and Current Practices are Misaligned
Such monumental changes in patient demographics, workforce diversity, talent requirements, consumer expectations, and technology would seem to demand a fresh approach to human capital planning, management and execution.
Yet many provider organizations still depend on decades-old models rooted in utilizing general staffing ratios, external benchmarks, historical performance, and "one size fits all" improvement expectations. The result is a tangible disconnect between day-to-day operations and long-term strategic goals.
To further complicate the situation, many provider organizations lack sophisticated tools, rigor, accountability, management competencies, and standardized processes to implement the required changes and adequately prepare for the future . Year after year, only incremental changes are made without sustainable improvements, so the same problems go unresolved.
A Way Forward
Healthcare executives agree: standing still and continuing with the standard approach to human capital is simply not an option. The key questions are: What is the right path forward for my organization? Where do we start? How do we balance the pace and magnitude of the required change agenda?
GE Healthcare Partners believes that the road map to transformation for any provider organization begins with the current state of their human capital operations and evolves through realignment, enhancement, and preparation for the future.
This evolutionary approach delivers benefits with each phase, while helping organizations build on each level of progress cost-effectively.
Evolution 1: Realign Human Capital Strategy and Operations
Evolution 2: Enhance the Foundation
Evolution 3: Prepare for the Future
Realign Human Capital Strategy and Operations.
Improving the prognosis for human capital in provider organizations begins with a fundamental realignment to connect talent strategy and operations.
The GE Healthcare Consulting approach to the Human Capital Value Chain (HCVC) integrates the strategic and operational functions of human capital into one value chain.
This holistic model can help leaders understand what talent, resources and competencies they already have, what they will need in the future, and ways to bridge the gap. In addition, the model can help systems more effectively manage the cost intensity of the workforce.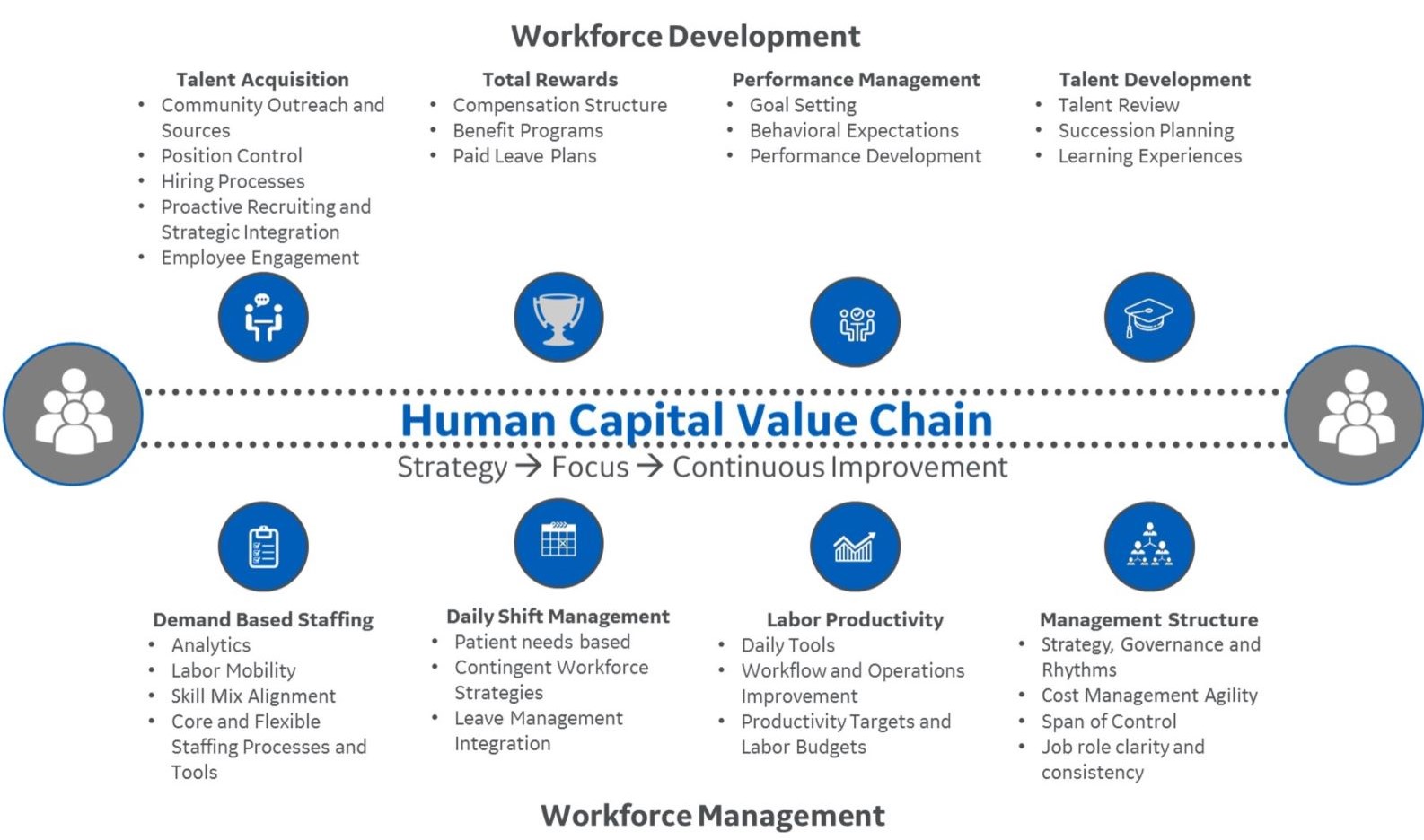 Enhance the Foundation.
The second stage is focused on near-term, tactical strategies to improve capabilities, processes and value drivers.
Principle 1: Understand the true behavior of cost
Cost analyses, especially related to labor, is a critical step. Frequently, a disconnect exists between what executives and department leaders believe is reflected in the budgets and financial statements, and what actually occurs.
Often, labor costs believed to be variable behave as fixed costs, reducing productivity levels and increasing the cost intensity.
Principle 2: Relentless focus on variation
In deploying human capital resources, providers make hundreds of decisions each day, and variation is common. Lack of appropriate tools, data, insights and defined actions are major symptoms of variation.
Establishing an organization-wide commitment to decrease variation is essential, and it needs to be activated through a routine, living and breathing program.
Principle 3: Leverage available digital tools, technology, automation, and robotics
Whether it's shifting non-value-added tasks to machines or giving employees new tools to make their jobs easier and more patient-centric, technology can help provider organizations optimize all links in the Human Capital Value Chain, from talent acquisition and management to demand-based staffing and labor productivity.
Prepare for the Future.
Having established a strong foundation focused on continually optimizing the day-to-day performance of human capital, provider organizations are positioned to focus on the building blocks of the future.
Principle 4: Enhance digital competencies of the workforce
In a world becoming more digital, connected, and information intense, provider organizations will need to rethink the definitions and competencies for key roles and identify new roles to be created. Employees will need education, training, and support to embrace new digital technologies—and the skills, processes, and behaviors they require.
Principle 5: Pivot to a distributed model of healthcare delivery
Many providers are pivoting from the traditional "product" strategy where they have owned all components to an "ecosystem" mindset that acts in the best interest of their patients.
Freed by digital platforms from the limitations of their brick-and-mortar facilities, organizations are expanding their markets and services via virtual health, telemedicine, home care, retail clinics, community health centers, and even smartphones and health wearables.
Principle 6: Innovate to make talent a strategic differentiator
Attracting and retaining talent is a burning issue for the healthcare industry.
To compete for top talent in today's high-employment labor market, providers need differentiated talent strategies that appeal to different generational cohorts, emphasize workplace culture and benefits, and offer greater flexibility and developmental opportunities to workers.
Of all the assets in a healthcare organization, human capital is truly the lifeblood.
It is also one of the most dynamic and complex. Given the pace and magnitude of change in the healthcare industry, it may be time to examine your current workforce development and management model and consider a new approach.
Change may be necessary—but it can be done in an evolutionary way that builds on your current strengths, focuses on priority areas, and delivers benefits at each step. To learn more about GE Healthcare Consulting's evolutionary approach to human capital optimization, please contact us.
To read and download a PDF version of this brief, please click here.
---
(1)United States Census Bureau. (2017). 2017 National Population Projection Tables. Retrieved from https://www.census.gov/data/tables/2017/demo/popproj/2017-summary-tables.html
(2)Bureau of Labor Statistics. (2018). Employed persons by detailed industry and age, 2018. Retrieved from https://www.bls.gov/cps/cpsaat18b.htm
(3)Association of American Medical Colleges. (2019). "The Complexities of Physician Supply and Demand: Projections from 2017 – 2032".
(4)Staffing Industry Analysts. (2017). "Median Age of Employed Registered Nurses Declines from 2011 – 2017". Retrieved from https://www2.staffingindustry.com/site/Editorial/Health care-Staffing-Report/March-8-2018/Median-age-of-employed-registered-nurses-declines-from-2011-to-2017
(5)Bureau of Labor Statistics. (2018). Occupational Outlook Handbook. Retrieved from https://www.bls.gov/ooh/healthcare/
(6)Harvard Business Review. (2018). "Virtual Health Care Could Save the U.S. Billions Each Year". Retrieved from https://hbr.org/2018/04/virtual-health-care-could-save-the-u-s-billions-each-year