Most healthcare organizations have goals of shifting care from acute to ambulatory settings while maintaining or improving quality and satisfaction. That goal has not led to a drop in occupancy rates in every geographic market.
Inpatient volumes continue to increase in many markets due to demographic changes, Medicaid expansion, and physician recruitment and consumer engagement projects.
Managing consistently high inpatient occupancy has created many ingenious tools/processes across the country. Healthcare providers have tried many approaches to solve inpatient capacity problems, but many have failed due to poor communication, lack of prioritization, fragmented approaches to change management, misaligned stakeholders, or unclear objectives. Not all of those ideas will solve the main problem (bed shortages) and some may negatively impact cost, quality and other desired outcomes.
GE Healthcare Consulting helps organizations design and implement new approaches to managing capacity/throughput challenges. Clinical leaders often ask our team to conduct three-to six-month studies to model their operations in a virtual environment while posing 3-4 key strategic questions and developing a macro capacity model using the following framework:
Define specific objectives and create leadership committees responsible for the engagement decisions, timeline, and communication
Analyze one-to-two years of available data from various sources to create a simulation model
Create workgroups consisting of staff, department leaders, and clinicians to validate the model and assess potential impact of process or volume changes
One of the key strategic questions that we are asked to model is whether or not 'Discharge by Noon' or similar measures may inadvertently create more challenges than it solves. We typically find the following to be true:
Optimal patient flow dictates that beds are available when needed
Focus must be on the "occupancy overlap" when census spikes for 2-3 hours quickly followed by large numbers of discharges
There is a need to reduce 'empty/unused bed time'--particularly when there is demand
Manage to 'discharge order response' times
Ideal flow would have discharge curve about 90-120 minutes ahead of bed request curve by type of bed needed
Achievable goals drive results

Generic 'Discharge by 'X' as a house-wide goal often have higher observed/expected LOS ratios and rarely earlier discharges
Alternatively, we analyze which nursing units or hospital services need inpatient beds and then focus the care team on prioritizing activities to produce timely discharges

---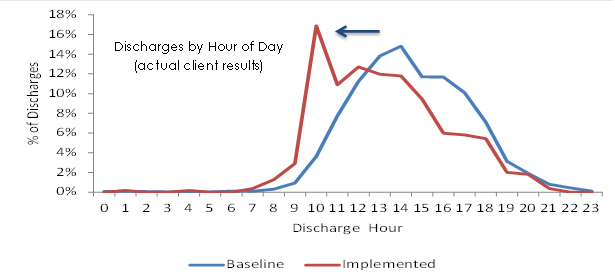 ---
But remember, it is not just about discharging a certain number of patients before noon when thinking about patient flow/throughput. If your organization already has a goal for discharge time, or is considering setting one, we recommend performing a thorough review by asking these types of questions:
To prevent congestion, how many beds do you need? When do you need these beds?
Which units or services need more beds? Which have too many?
How will you design solutions that align the care team around designation, communication, and execution so that a patient can successfully be discharged in the morning?
Our most successful clients take a very structured approach to answering these questions and defining their capacity strategy. They balance the use of advanced analytic modeling with feasibility studies. The outputs from this process allow them to establish clear goals and expectations that motivate their entire organization.
By setting reasonable and achievable unit/service level goals that contribute to solving organizational objectives (i.e., lower LOS, higher quality/satisfaction), the implemented changes have a higher impact and are more sustainable.