As hospitals and health systems consider the shift from fee-for-service to fee-for-value in their strategic planning efforts, they face the challenge of better understanding what their organization should look like in the new world.
This means incorporating new concepts to the strategic planning process, including a payer strategy, and the recognition that the organization will need to change how it will generate revenue.
In an effort for the organization to better understand how it will compete, questions to be answered include:
In what types of risk products should my organization be participating, if any?
How will my organization use alternative payments or differentiating payer arrangements to move market share?
What is our current contribution margin of each payer type?
Will our access points (e.g., primary care, retail clinics, e-health) be adequate to reach the population base we need?
Should my hospital be considering expanding our range of services to include other care settings such as post-acute?
The answers to these questions will vary depending on the payer focus and patient population (market of segments) to be served, as illustrated in the diagram below.
In this article, we discuss a refreshed approach to strategic planning that helps answer these questions and connects an organization's long range financial plan ("LRFP") to its strategic plan so that LRFP targets are realized.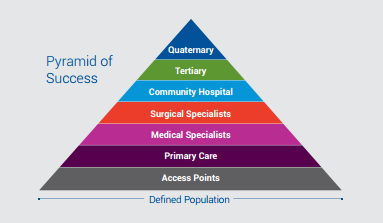 To help arrive at the best approach, providers should begin the strategic planning process by first evaluating the expected future utilization trends for each major payer (e.g., Medicare, Medicaid, commercial) for all of the care settings that are relevant to the organization (e.g., acute care, ambulatory care, physician practices, post-acute).
For instance, organizations should consider the following as it relates to their market: What if inpatient utilization rates (per thousand) continue to decline?
What if value-based programs continue to move more imaging and outpatient surgeries into non-hospital facilities? What if expanded urgent care sites and retail centers continue to impact the emergency room?
By answering these questions and quantifying the financial impact, hospitals and health systems can then begin to better understand their goals related to:
How much more market share they will need (grow the population served),
In which care settings should they consider participating,
What their pricing strategy and pace of change to alternative payment models should be, and
Determining if they need to expand into new geographic markets.
Ultimately, this approach will help each organization gain a clearer picture of what they will look like in a fee-for-value world and while reaching their financial goals.
Considerations for each of these goals are described in further detail below.
Increase Market Share
How much more market share can the organization attain? One percent? Three percent? Based on what?
Sometimes a hospital's LRFP reflects a growth target of five percent year over year. How does one attain this in an environment with decreasing inpatient volumes? Does the organization plan to increase access points in terms of additional clinics, a health plan, and physician providers?
Will there be increased outreach to the community and providers? Will the organization enhance services within existing service lines or add new ones to attract a new segment of the market? If so, what is the incremental volume that will be realized, and how does that compare to the investment required? Will participation in a tiered network enable increased market share?
An organization can partner with other providers to create a broad provider network that could be marketed to both health plans and local employers. Within the network, tiered pricing with payers could be established which would, in turn, drive both greater market share and premium revenue dollars to the organization. What is the cost of these strategic initiatives? What is the return on investment?
These are key considerations when quantifying the impact of increasing an organization's market share. Once the impact is estimated, how much more of the gap remains, and what other strategic goals should be considered?
Enhance and Diversify Care Delivery Sites
What service lines or care delivery sites should be added in order to meet the demands of the population targeted and cost effectively deliver care? Which service lines may need to be closed or consolidated?
The addition and diversification of sites of care or service lines not only enable additional volumes and revenues but also facilitate the higher quality and leaner expenses that result from offering a comprehensive scope of services across the continuum of care as effective care management is implemented. The addition of business units should consider extending beyond traditional acute service lines to post-acute and ambulatory services.
Of course, additional services require some investment and typically different business skills and capabilities. Whether the organization builds its own infrastructure or partners with another provider, each option should be considered, and the return on investment and likelihood of success should be measured. The impact of additional business units or service lines should then be compared to the gap to see how much more is still needed to be filled.
Increase Top Line Revenue
Under a shared savings environment, expense savings and/ or quality improvement resulting from effectively managing care can result in incentive payments (pay for performance) on top of the baseline fee schedule that directly improve an organization's margins.
Through a defined provider network and effective care transitions and care management, the health system will be able to demonstrate value, therefore increasing market share (previously mentioned) and potentially access to new sources of revenue. Of course, if the organization decides to pursue full-risk or plan-to-plan arrangements, or even develops its own health plan, that comes with the opportunity to capture the benefit of effective population health management.
With the potential for higher reward, also comes greater risk, so assuring the organization's readiness for risk will have to be weighed carefully. All programs that include financial risk should be evaluated to determine the expected and actual return. In the future, most health systems will require some access to sharing in the benefits of reducing overall healthcare costs through either shared savings or direct participation in premium dollars to be successful.
Increase Population Reach/Service Area
Up to this point, we have assumed the service area remains as is. In some instances, an organization may need to increase the service area and its reach to capture a larger population. Generally, this is difficult to do and may require significant investment in terms of outreach efforts, and the resulting gain may be minor.
Successful outreach may require partnering or collaborating with other providers or through expansion of relationships with physician groups in those markets. Regardless, organizations should evaluate the cost/ benefit of expanding its service area and use this in making an appropriate decision. It is important to note that the strategic goals above are not mutually exclusive; interdependencies do exist.
Adding a service may not only result in higher revenue due to incremental volumes for that new service line, but also incremental revenue that results from effective care management across an enhanced continuum of care.
An analytically-driven payer strategy that considers financial, market, and organizational capabilities will help organizations identify what will be required to achieve their goals. An objective approach will guide the prioritization of strategies to enable the achievement of the organization's LRFP and its desired position in the market.