Healthcare organizations run on talent, and it can be a struggle to retain and recruit these much-needed resources.
Increased regional and local competition contribute to the struggle, but some organizations aren't doing everything they can to ensure they get at least their fair share of that talent.
One of the biggest missed opportunities is implementing a strong team-based approach to talent acquisition that effectively engages hiring managers and their team members in the talent acquisition process.
The Need for Teamwork
It's important to have talent acquisition professionals that provide a consistent, compliant, and effective talent acquisition process that reduces the process burden for busy hiring managers. The best recruiter can be limited if there isn't alignment and engagement with the full hiring team. With the increasing cost pressures healthcare providers face, hiring more dedicated recruiters to help close the talent gap is unlikely to be a viable option.
More importantly, there are key elements of the talent acquisition process that hiring managers, and their team, are best positioned to do well.
Some important examples are:
Identifying the actual key skills, education, and experience requirements for a position so that it can be accurately reflected in the job posting and screened in the selection process.
Describing what it is like to work in their department and the real expectations for a position on their team.
Highlighting the "selling points" of a position that will attract the right types of candidates.
Giving a candidate a sense of a department's culture and helping them get a feel if they will like their manager and coworkers.
Screening candidates for technical skill and department cultural fit.
Discussing professional development and career opportunities that are relevant and available to department team members.
When recruiting students on campus, their information needs are usually much higher than an experienced candidate. Their lack of experience working in their new profession can create significant uncertainty and even anxiety. Making a personal connection with someone further along in the same profession can be very reassuring and provide the winning edge in attracting that candidate. Therefore, it is critical for professions like nursing, that source many of their new hires from campus, to have an engaged and well-prepared campus recruiting team of nurses.
The Need for Change Acceleration
It's not easy to build and sustain an aligned team of engaged recruiters, hiring managers, and their team members. Leaders face competing demands for their time and usually view their team's time as a scarce and valuable resource. They also have received minimal training and fail to see the importance of their role in talent acquisition. It can often be hard to get them to commit to more engagement in talent acquisition. Even your recruiters may be reluctant to adopt a more collaborative relationship with hiring managers and may cling to old transactional approaches.
Following structured and methodical change management steps that acknowledge and address these sources of resistance will accelerate the adoption of the new behaviors required for a team-oriented talent acquisition approach.
The GE Change Acceleration Process (CAP) provides that needed structured change management methodology. Let's look at examples of how the CAP steps can be used to accelerate change toward better talent acquisition teamwork.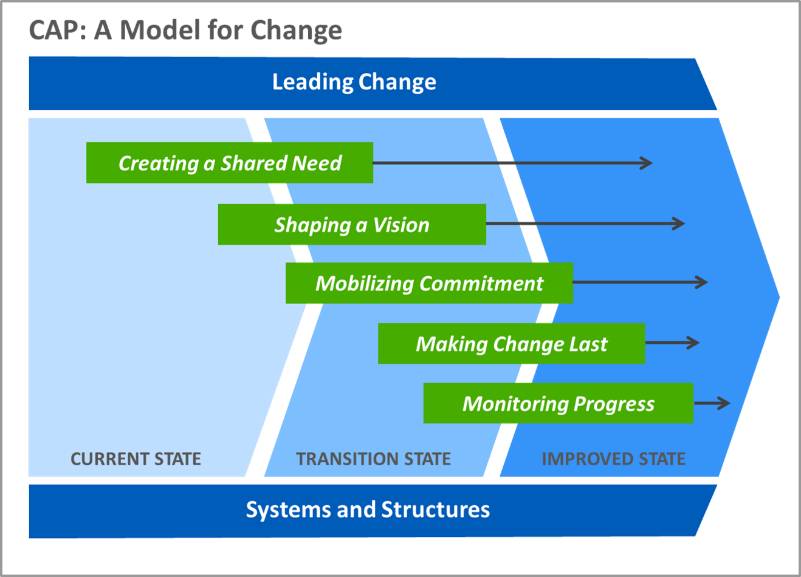 Creating a Shared Need makes the team eager for change by providing information that makes them dissatisfied with the status quo and agree with the need for change. Ensure your hiring managers understand the impact that their increased engagement would have on outcomes that matter to them such as quality of recruiter screening, reduced time to fill their positions, offer acceptance rate, and hire quality.
Shaping a Vision engages stakeholders in painting a compelling picture of a future state that you want them to move toward. Help stakeholders define how improved collaboration would better leverage each other's relevant strengths, reduce re-work, and create a smoother hiring process with better outcomes.
Mobilizing Commitment includes identifying what you need each stakeholder to do differently, assessing their level and sources of resistance, and creating an influencing plan to secure their commitment to required new behaviors. Identify which leaders need more recruiter assistance, which ones need to delegate recruiting to a subordinate leader, which ones need training, and which ones are your role models who can influence their peers.
Making Change Last requires highlighting successes and sharing learning. Recognize your role model recruiters and hiring mangers by having them share their best practices with the organization.
Monitoring Progress involves identifying and transparently tracking metrics that reflect commitment to the change. In this case you would track and share process metrics that reflect strong collaboration and engagement. For example, a short turnaround between a recruiter referring a candidate and the hiring manager providing post interview feedback indicates a good collaboration in getting the interview scheduled and commitment to timely communication by the hiring manager.
Committing to Change
Most healthcare organizations would benefit from having a strong team-based approach to talent acquisition that engages hiring managers and their team members in the talent acquisition process. However, getting dozens of busy stakeholders to commit to this change is quite challenging and requires a rigorous approach.
The GE Change Acceleration Process, with its simple yet robust model and extensive set of tools to help you effectively follow the process steps, provides the rigor needed to accelerate the change toward a winning talent acquisition process.