An effective integration plan not only aligns operations and maximizes the collective system resources, it also serves as a roadmap and a vehicle to cultural integration.
Recognizing the need to balance both quantitative and qualitative inputs in the identification of the ideal strategies for each unique system integration plan, leadership should follow a proven5-step methodology to create a plan that is realistic, achieveable, and sustainable for the system.
To position the system integration planning process for success, an effective governance structure and Integration Management Office ("IMO") should be established to guide and facilitate integration initiatives.
Capitalizing on the organizational knowledge and expertise from operational, clinical, and medical staff leaders throughout the system, the governance structure should be positioned to make critical system decisions and be nimble to adjust planning efforts in an uncertain world. With the support of an unbiased IMO to facilitate and manage integration initiatives throughout the system, communication surrounding planning and implementation should be frequent and broad band.
---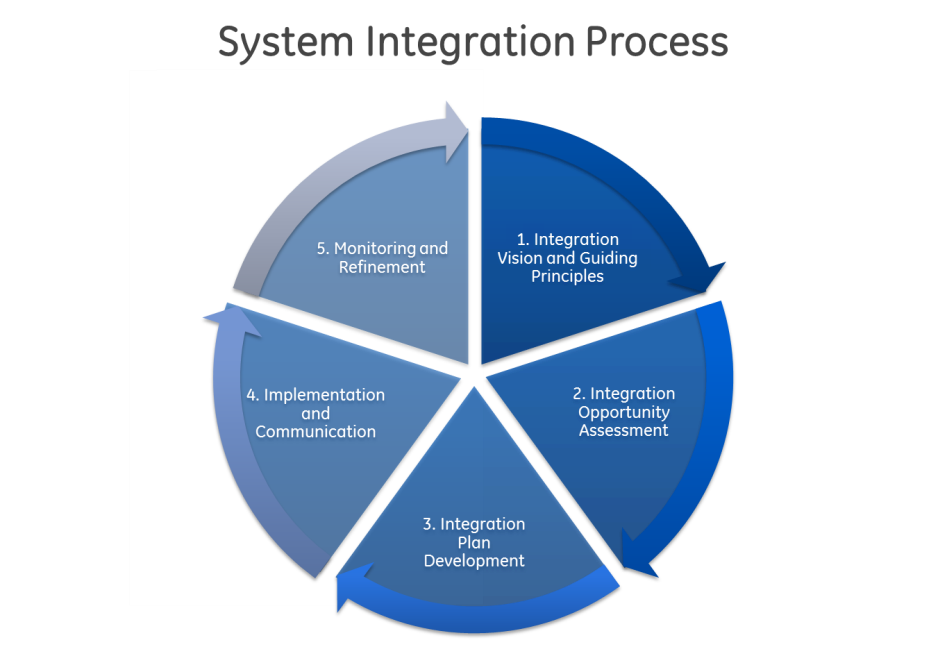 ---
Step 1: Vision for System Integration
The vision and design of an integration plan should reflect the system's core strategic goals and objectives, and be grounded in the unified mission of the integrated healthcare delivery system. Balancing meaningful integration initiatives that are designed to enhance value with the system's tolerance to culturally accept and adapt to change, leaders should establish clear guiding principles to harness decision making.
The integration vision and associated guiding principles will become the foundation for departmental and service line integration efforts. When organizational or personal bias arises, the guiding principles will focus leadership and their teams on the system as a whole, break down both organizational and departmental silos, and position teams to be innovative and progressive as they plan to drive quality and control costs throughout the system's administrative, support, and clinical services.
Steps 2: Efficiency Opportunity Assessment
Opportunity to improve operational efficiency, enhance quality, maximize existing resources, and control varies within each system. Factors including the geographic distribution of care sites, the scope and scale of operations, and community needs will all impact integration opportunities. To effectively identify integration opportunities, individual functional area work teams should be established to assess current performance both quantitatively and qualitatively. With the help of the IMO, these work teams will assess historical and projected data, utilize industry benchmarks, and gather team operational insight to catalog operational variation.
Capitalizing upon industry experience and their own internal analyses, the work teams will identify a range of integration opportunities available to the system. These opportunities should be organized by the IMO and shared with the integration governance team to ensure the opportunities have been properly vetted and do not conflict with the mission or vision of the system.
---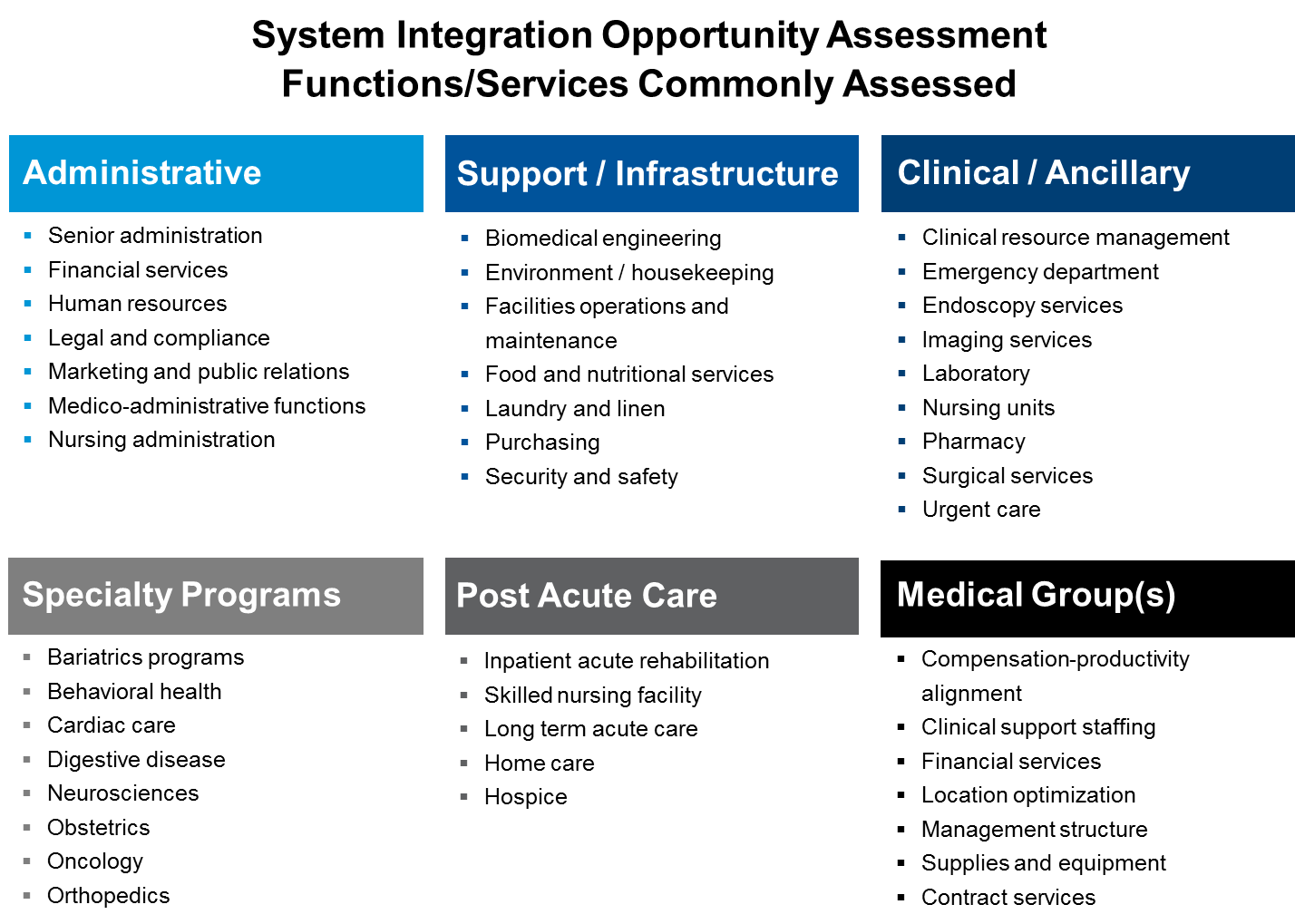 ---
Step 3: Operational Efficiency Plan Development
Once a preliminary listing of integration opportunities has been identified, the work teams will commence building operational efficiency plans to drive system integration. Utilizing a blend of proven horizontal and vertical integrations strategies, the work teams should build tactical plans with clearly defined action items, potential barriers, necessary resources, financial impact, implementation timeframes, and interdependencies with other departmental plans.
Recognizing that individual departmental and service plans may conflict, the governance committee and IMO will serve as a central repository for draft plans and must identify integration plan interdependencies as well as potential strategic and political complications with implementation. Once plans have been reviewed and refined, the IMO will develop a master system integration plan for approval and adoption.
Step 4: Implementation and Communication
As the system begins implementation, broad and frequent communication to both internal and external stakeholder is essential. Communication of the overall integration plan at a system level and open dialogue regarding departmental plans with their respective teams will provide the best chance for the plans to be accepted and adopted by the workforce and the community.
Implementation of the integration plan should commence upon final approval of the plan or when permitted by regulatory agencies. With the governance committee and IMO team coordinating initiatives system-wide, both positive and negative feedback should be monitored closely. With the proper mechanisms in place, work teams can modify their plans as needed to ensure the successful achievement of the system's integration goals.
Step 5: Plan Monitoring and Refinement
Concurrently with plan implementation, the IMO should establish an integration dashboard to monitor progress and barriers to implementation. The dashboard will serve as a tracking tool for the governance committee and system executive leadership, in addition to a communication mechanism to the system to illustrate progress and success.
It is also during this step that the governance committee will identify barriers to implementation.
As all healthcare systems operate in an evolving market these changes are to be expected. It will be up to the governance committee and the work teams to adjust their plans to overcome the impediments and stay on course.